Memorable SummerFest 2013 – Time for 2014!!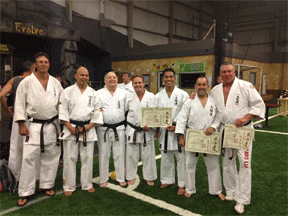 Time to start planning for this year's SummerFest! A stellar cast of exceptionally talented teachers will once again, make this event the most exciting of the year!
Click the photo (or here) to register!!!
---
What happened at last year's SummerFest:
Another great camp! Thanks to all the regulars and a couple of new presenters, this year's SummerFest was a blast. Watch the site and Facebook for lots of the pictures taken during the weekend. My thanks to Darin Yee, who is the hardest working camp volunteer anywhere. He made this 30th anniversary event both memorable and stress free for Sue and me.
Also, thanks to all of you who decided to join the 'clan' this year for the first time. I always get a kick out of listening to them at the end of the weekend telling everyone who will listen. . . "Wow, what a dummy I was for not attending before this yeat!"
Congratulations to all the masters who demonstrated their kata to peers, family and friends. What a great way to receive their new rank.
Three new titles were awarded by the newly expanded Titles Committee. The renewed concept of titles being something earned and not just something tacked on to certain rank is a worthwhile and worthy concept that has been revived by IUKF.
And thanks to John Page, our retiring Masters of Ceremony, for all his help in making the event run smoothly.
Bill Glasheen wrote a great camp review in his forums this morning. In case you missed it:
Good times at camp this year. No two of them are the same. While some of the material I teach may be unique to the camp, the students there are often different and my after-camp experiences are most definitely unique.
Congrats to the Canucks and to the Nebraskans for being the first clans to do the Fuzhou Suparinpei with staying power. George purposely turned part of the instruction of said form to Victor so he could get experience doing that and I could spend more time watching him in action. We had some interesting and entertaining discussions about "kata drift."
I had a great time working with a few people one-on-one on Sanseiryu. It never ceases to amaze me how much work we as an organization need on this form. Only a handful of people "get" how to use core energy in that form, and apply the principle of sequential summation of motion. (Or "mochi" as the Okinawans would describe it.) Fortunately I saw a few candidates on the Saturday night masters test who got it right. As long as we have a few, the knowledge will be out there for others to tap into.
Thanks to Sarah Colombe for asking me to work with her on Tsukenshitahaku no sai. It's a great form that I learned from an Okinawan Uechi master (I'm embarrassed to say I don't remember his name) at a 1984 Uechi camp. It's a very old, very long, and most awesome piece of choreography, and you won't find it out there on YouTube. But a handful of us in IUKF are keeping the tradition going.
Oh… and congratulations to Sarah for her upcoming nuptials.
Thanks to Tracy Capone for getting me off the street (hotels are ALWAYS booked…) and treating me like a prince in her most interesting home. Wow… I'm really impressed. It's a 200-year-old piece of semi-restored architecture that can be controlled from her smartphone anywhere in the world. This woman has talents!!
Always great to see Van, Rory, Buzzy, etc., etc., etc.
To the rest of you… you missed a great gathering.
– Bill